'Job Jumping' Background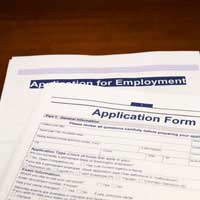 The term "job jumper" is usually reserved for those persons who have had many positions at several different companies in a very short amount of time.
If you have a "job jumping" background, you may be concerned about how you can neutralize the negativity often associated with the activity of changing jobs frequently. Here, we'll look at some of the ways you can smooth over a job jumping history in your CV and during your interview.
Handling Job Jumping in Your CV
Your résumé or curriculum vitae (CV) is a vital document that speaks volumes about your career and educational history. However, if you've jumped around from position to position, it might send "red flags" to potential employers. Thus, many people choose to "cover" their job jumping pasts through factual, though perhaps "sneaky", methods. Consider these strategies:
Removing All Dates
It's considered a little controversial, but some job seekers who have job jumping backgrounds simply remove all dates from the "Employment History" sections of their CVs. Thus, a hiring or personnel manager cannot immediately tell from the CV if the applicant spent one month or two years at any of the companies listed.
However, know that this is somewhat of a "stop gap" measure, because some prospective employers are now taking it upon themselves to contact applicants' past employers to verify the legitimacy of the CV. Still, taking away the dates will give you an extra chance to snag an interview.
Choosing Only Some Jobs
You can always list only a few of the jobs you've held rather than every one of them if you've worked for several organisations. For example, rather than writing all three of the businesses you worked for in 2004, why not choose just one? That way, your CV will still be honest, but you won't be looked at as a job jumper.
Choosing Only Some Positions
Similarly, if you're applying for a specific position, you can arrange your employment history to reflect only those jobs you've held that are pertinent to the one you want. This is known as a "skills based" CV, and though it can be met with raised eyebrows, it may help you get a foot in the door.
Handling Job Jumping During Your Interview
Let Your Interviewer Set the Tone
During your interview, there's no need to announce with a tone of defensiveness, "I know I'm a job jumper!" In fact, there's a chance that the person interviewing you may not even ask too much about why you moved from position to position. (After all, he or she might have been a job jumper at one point in time, too!) Therefore, allow your interviewer to take the lead. If he or she doesn't bring up your employment history, you don't have to, either.
Be Honest
On the other hand, if the subject of job jumping does rear its head, you'll need to address it with calm, grace, and efficiency. Plan ahead what you'll say when asked the big question: "Why did you have so many jobs in such a short period of time?" Some valid reasons include, but are not limited to:
"Our family moved frequently because my spouse is in the military; therefore, I couldn't remain at one employer for long."
"Two of the companies I worked for decided to close their doors; thus, I had to find employment elsewhere."
"My position was downsized at ABC Company, and after that, I had to take a series of temporary jobs until I could find something more permanent."
Don't Get Angry
If your interviewer continues to press you about why you jumped jobs, it's critical that you keep your cool. Don't allow him or her to press your buttons; if you become enraged or nasty, you might as well kiss the job good-bye. Instead, answer any queries with calmness and never, ever badmouth a previous boss or business. If you had a negative experience, it's best to say, "I had differences of opinion with the way that organisation was operated, so I felt it was in my best interest to move on."
Some Final Thoughts About Job Jumping
Job jumping, though not recommended, is definitely a reality. If your past includes some job jumping "scars", you can rest assured knowing that as you get further away from that time in your career history, your job jumping will become less and less important to future employers.
You might also like...