Looking for a Job When Employed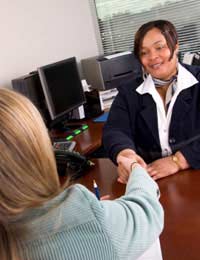 Looking for a new job is challenging at the best of times, but when you have to fit your job hunt in around full time employment, it may seem like you have little time left for anything else. Once you decide to look for a new job it will be tempting to give up on your present job and spend your time searching for the better positions that await you. Whatever you do, don't! Do not use work time or work resources to cover your job hunt. Refrain from confiding in co-workers about your plans, and do not quit in order to devote more time to the job hunt. Instead, remain private, practice good time management techniques and pick up the tab for all search related supplies. No doubt these skills will help you land a bigger, better position than you could have dreamed of.
Remain Private about Your Plans
When you decide to look for a new job you may want to shout your plans from the rooftop, but squash these feelings. In your present workplace you must continue on as though nothing has changed. Do not confide your plans to co-workers or you risk becoming the scuttlebutt of water cooler gossip, and you never know when your boss might overhear. While you may have every intention of moving on quickly, an average job search can take a minimum of six months, and that's a long time for co-workers and superiors to become mistrustful of your work ethic or commitment. Being passed over for new responsibilities and accounts in this time also won't help your resume any. Instead, do yourself a favour and keep your plans to yourself.
Practice Good Time Management Techniques
An important part of staying private at the office is practicing good time management skills. The general rule of thumb may seem harsh, but you should never use work time to search for a new job. Don't take phone calls from agencies or companies, don't schedule interviews during the day and certainly don't blow off tasks in order to perfect your CV. Instead, set your meetings for before work (many agencies accommodate 8am appointments), during your lunch hour or after your working hours. Save your CV updates for your own free time. Weekends in particular are a great time to set aside several hours to get all of your job search tasks completed at once. It may seem unlikely, but others in your office may catch on sooner than you'd think when you suddenly switch your work routines. Not to mention you are being paid to do a job, not search for a new one.
Pick up the Tab for Search Supplies
A corollary to the never use work time to search for a new job rule is to never use office supplies to search for a new job either. Looking for a new job can actually turn into a costly endeavour if you are making phone calls, printing out or photocopying CVs and cover letters, faxing or posting documents or paying for Internet time to send out emails and/or further your search. Unfortunately, that's jut the way it goes. Using office supplies for these tasks is - dramatic as it may seem - the same as stealing from your present employer. Take a hands-off approach to company resources and not only will your conscience thank you, but you'll minimise the risk of anyone else catching a glimpse of your CV or overhearing a snippet of your conversation.
Looking for a job may seem like a full time task in itself, and it just may be. Unfortunately you already have a job, and one that pays the bills, so your primary focus must remain on doing your job and doing it well. Looking for a new job must be done on your own time and your own tab, but when you're sitting pretty in a few months you'll thank yourself that you worked so hard during out-of-office hours. Just make sure that in your new position you work as hard during the work day!
You might also like...