Top Tips for Building a Great Online CV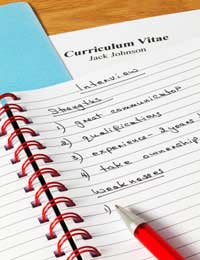 Given the growth in popularity of online communications, it is extraordinary how many job-hunters still send their CVs on paper. This is an increasingly inefficient and outdated method of providing your details to prospective employers.
Online CVs offer a solution to the wastefulness of paper, and the vagaries of the Royal Mail. So how can you build a great online CV?
1. Remember it's Still a CV
It might be online – but it is still a CV, and it is important that you remember this. Don't get so carried away with the presentation and format that you forget to include everything a prospective employer will be looking for. The intention is to get all the information you would include in a paper-based CV onto the online version, so you might want to start by looking at your existing CV and working from there.
2. Personalise the CV For the Job
Many employers will simply discard CVs that are not specifically aimed at the position for which they are hiring. Just as with a paper CV, you should therefore make sure that the document is personalised for the job. You can then provide an individual link to each CV.
3. Make it Accessible
It is no use building your online CV only for prospective employers not to be able to access it. You need to make it as easy to use as possible. Amongst your primary concerns should be cross-browser compatibility. Not everyone uses the same browser set-up as you, so it is important that you make sure your CV works on a range of software. Chrome, Firefox, Safari and Internet Explorer are the most common.
4. Provide Offline Contact Methods
Although they will have received the CV online, many prospective employers will prefer to contact you using more traditional methods. It is therefore important that, as well as an email address, you include a phone number. You may also consider including your postal address, especially if the relevant job advert has asked for candidates in a particular location.
5. Design is Secondary to Content
It is easy to get carried away with the design aspect of your CV. While it is important that the CV is eye-catching and engaging, it is absolutely vital that it is legible. Design should always be secondary to content. You should make sure that the information contained in the CV is easy to read, and that the design supports it – rather than distracts from it.
6. Choose a Relevant Format
Given that your online CV is still a CV, you should think carefully about the way in which you present the information. Broadly speaking you have a choice between two main formats – a skills-based CV and a chronological CV. You may wish to read the relevant article elsewhere on this site for more information on choosing a CV format.
7. Test, Test, Test
Finally, it is vitally important that you make sure the CV works properly before you send it off. Make sure that there are no broken links, and that all the information is presented as intended. Prospective employers will simply discard CVs that do not work instantly and as expected – you will not get a second chance.
Online CVs look set to grow in popularity. By following a few simple steps you can help to make sure that yours stands out from the crowd.
You might also like...