Online Job-hunting Facilities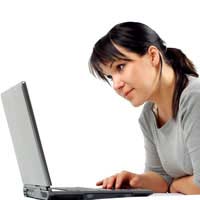 The internet has really revolutionised the way in which individuals search for jobs – and the way in which businesses find candidates. Online services have made life much easier on both sides. If you want to maximise your chances of securing the job you want, you need to be making use of online job hunting facilities.
What can I do online?
The growth in web-based job-hunting services has meant that there is now a wide range of tasks that you can complete online.
The internet is increasingly the first port of call for those looking for suitable positions. There are hundreds of websites on which employers can post vacancies. Many of these are dedicated to specific sectors or industries, meaning that it is now relatively easy to find vacancies in even the smallest of niches.
But the internet has also allowed candidates to flip the recruitment process on its head. Many agencies now allow job hunters to store their CV online. Candidates will then be automatically contacted when the agency has a client looking to fill a suitable position.
Why should I bother?
An increasingly large proportion of businesses now rely on the internet for their recruitment. As such, if you are not looking for jobs online you are likely to be missing out on a significant number of potential positions.
In addition, though, the internet is simply a useful tool for job hunters. It can make your life significantly easier; the number of times you have to print off paper CVs is reduced, and you can easily apply for a large number of potential jobs in a relatively short space of time.
What about online CVs?
Online CVs are one of the most exciting new job-hunting tools. Rather than printing off and posting your CV a dozen times, it is now possible to build an online CV. You can then send the link to prospective employers by email. Even better, you can easily build a number of different CVs, each tailored to an individual job. This can dramatically increase your chances of achieving an interview.
There is more information on online CVs available in articles elsewhere on this site.
What are the alternatives?
There is, of course, still a place for paper CVs and 'old-fashioned' job hunting techniques. Indeed, some firms still prefer to receive paper CVs – although the number of businesses operating in this way is falling.
It is also worth remembering that the way in which you hunt for jobs may depend, to a great extent, on the industry in which you work. For example, if you are looking for a position in the restaurant business, you might well be best off simply dropping your CV off by hand. Clearly, though, this technique is unlikely to yield success if you are looking for a management position in a finance company.
The internet has had a major impact on the way in which people search for jobs – and the way in which companies view job applications. You should make sure that you are utilising these techniques to their fullest extent in order to maximise your chances.
You might also like...