What is an Online CV and Why Do I Need One?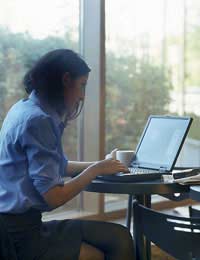 Given the rapid growth in the availability and affordability of technology, it is remarkable that the process of applying for a job still seems to be lagging behind. A remarkably high proportion of job hunters spend valuable time printing off CVs and posting them to prospective employers. This is an increasingly outdated method, and one that is being quickly overtaken by online CVs.
What are online CVs?
Online CVs are fairly self-explanatory. Rather than writing your CV on a word processing programme and printing it out, online CVs give you the opportunity to save your information on the web, and then simply send the link to prospective employers. There is no paper involved, and no hassle.
Many recruitment agencies offer their own online CV services, allowing you to upload your details for viewing by their clients. But it is worth remembering that most of these services are proprietary; that is, your details will only be available to businesses with whom that recruitment agency deals. So, while these services have their uses, you will often be better off building your own online CV instead.
What's wrong with paper?
Paper CVs have a number of significant drawbacks. To begin with, they are of course environmentally problematic. Many companies are now trying hard to reduce their paper usage, and your potential employers might well value the help.
Aside from this, paper is an inefficient method of getting your information to employers. We are all familiar with the vagaries of the postal service; why should you run the risk of your CV not arriving?
Finally, it is worth remembering that the majority of job hunters are still using paper CVs – despite their drawbacks. As a result, an online CV will help to set you apart from the pack, and help to ensure that your application is given the attention it deserves.
How can I build an online CV?
There is a range of services available to help job hunters build their online CV – but, as has been mentioned, many of these only allow you to share your information with a small number of companies.
You may therefore wish to consider getting your own web space and building your CV yourself. This is very cheap (you can easily register a domain name for less than £10) and, if you do not have experience with HTML or web design, there are hundreds of templates available online to help you actually build the CV.
It is worth remembering that most employers will want to see that the CV they receive has been tailored specifically to the position for which they are advertising. You may therefore want to build a number of separate CVs, and send the individual links to different employers. There is more information on building your online CV available elsewhere on this site.
Online CVs look set to grow in popularity significantly. In the meantime, you can help to ensure that your job application gets the attention it deserves by becoming an early adopter of this new technique.
You might also like...