How to Identify a Great CV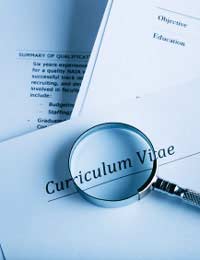 While writing a CV might be a difficult task, judging one can often be even tougher. As an employer, judging the quality of the CVs you receive is one of the most important aspects of the recruitment process. It will determine the quality of candidates you interview – and, ultimately, of the people you hire.
So what are the tell-tale signatures of a great CV?
Is it targeted?
A good CV will be targeted specifically to the job for which the candidate is applying. Many candidates simply print off dozens of copies of exactly the same document and send them to a range of employers, without considering what each specific employer might actually be interested in. A good candidate, however, will tailor the CV to the position – rather than mass-mailing a pro forma document.
Is it well written?
If the candidate hasn't taken the time to check their CV for spelling and grammar mistakes before sending it, they may well adopt the same lackadaisical approach to their work. A good CV will be free of these mistakes, and will read well. It will make you want to read on, rather than appearing simply like a list.
Does it include a covering letter?
A good CV will always come with a covering letter, particularly if it is unsolicited. The letter should be personable, and should act as an introduction to the candidate rather than simply rehashing the information that is contained in the CV. In an ideal world, the CV should explain why the individual is qualified for the position, while the covering letter should persuade you that you want to work with them.
Is it in a suitable format?
A great CV will be written in a format suitable for the position for which the candidate is applying. CVs are most commonly written in one of two formats: chronological, or skills-based. While chronological CVs are seen most frequently, they may not be the best choice for the position you are trying to fill. A good CV will consider the nature of the position carefully, and choose a format accordingly.
Does it concentrate on your needs?
Many CVs concentrate mainly on the candidate themselves, explaining why the position is right for them. It should, of course, be the other way around; the document should explain why the candidate can fulfil your needs as an employer. It should set out exactly what they can do for you, rather than what you can do for their career.
Does it have suitable references?
References are absolutely vital, and yet very few employers bother with them. A CV without readily available references should always set alarm bells ringing. It is vital, though, that you check those references. A huge proportion of employers simply take candidates' word for it when it comes to references. This is not enough; you need to check them thoroughly yourself.
Identifying the best CVs in a pile of dozens can be a tricky task. But it is also an important one. Once you learn to pick out the best CVs, you will help to ensure that you hire the best people.
You might also like...
Personal Profile Afriendly and hardworking individual who enjoys working for the benefit of society especially helping people with special needs.Honest, trustworthy and reliable, seeking an opportunity to face fresh challenges as part of a successful team. Key Skills (1) Good Team player, Interact well with others and willing to help at all times (2) Self-motivated, work well independently on own initiative (3) Excellent time keeping record, punctual and reliable (4) Flexible and adaptable, willing to learn new skills Employment History Home Bargains, StroudBranch Nov-Dec 2012 My duties included general cleaning, mopping floors,cleaning toilets, cleaning dining area and cleaning shop floor with the cleaning machine. Rococo Gardens, Painswick 2009-2010 I worked on a voluntary basis at the Rococo Gardens Painswick as a Garden Labourer/General Maintenance Assistance From 1985 until 2007 Februart I was on my own coconut Plantation in Sri Lanka. In February 7th 2007 I came to the United Kindom with my Brother. School for Special Needs, Sri Lanka as a Vollunteer Teacher (1) Teaching them the concept of figure,s (The numericals to the quantity) (2) Teaching them the colour concept and recognition of the names of colours (3) Getting them to understand the concept of smooth and rought (4) Getting them to be more friendly,helpfull and sociable amoungst each other (5) T0 recognize shapes and sizes, and fit in the correct shape into the correct slot. (6) Teaching them to write better with the use of the sand tray and figure to write a word or a letter. (7) music and singing as part of the learning programme and sociability Education Educated to Ordinary level standard Upto1968:Propriortary School St Thomas,s Collage Collupitiya Colombo Sri Lanka 1969-1973 Farney Close School, Bolney Court, Bolney,Sussex near Brighton and Haywardsheath. Hobbies I enjoy reading book,s and have read a bit of English History.I read novel,s as well. I lissen to a lot of classical music, mostly western classical music and a bit of Indian classic\al music with a bit of jazz as well. Referances Available on request I worked at the Rococo Gardens on a voluntary basis as a Garden labourer/GeneralMaintance Assistance
nill
- 16-Jun-13 @ 11:08 AM