How to Write a Cover Letter to Get You Noticed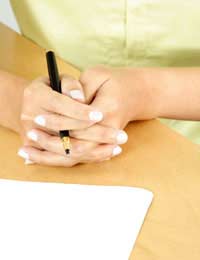 Your curriculum vita (CV) may be incredible, but if your cover letter's not as spectacular, no one may ever even see the CV.
A good many job seekers forget that their cover letter operates as a sort of first impression. When paired with a solid CV, the cover tells the employer that the job applicant is professional and thorough. On the flip side, a misspelled, inaccurate cover letter says, "Don't hire this person!"
Ironically, the most important weapon you have in ensuring that your cover letter shines is the position advertisement itself.
Typically, job opening ads contain pertinent details about the responsibilities of the position, the necessary qualifications that candidates must have to fulfil those expectations and perhaps a bit of background about the company. It's up to you to use the employer's most "important" words (aka, "key words") in your cover letter.
Use Key Words and Phrases
For instance, if an advertisement states that it wants people who are "dedicated", "mature" and "creative", it will behove you to use those terms somewhere in your cover letter. Obviously, you don't want to repeat them verbatim (as in "I am dedicated, mature, and creative"); however, if you weave those adjectives throughout your cover, you'll be more likely to catch the attention of whoever is screening the CVs.
Additionally, your cover letter should echo the qualifications you have that match the qualifications requested in the ad copy. If the posting wants someone "with a background in management" and you've been an IT manager for the past year, mention it somewhere in your cover letter. There's no need to go into too much detail, but you can easily add this fact in a natural way.
How Long Should My Cover Letter be?
As far as length is concerned, most cover letters follow a one-page rule. The exception would be if you're trying to attain a position that has a significant number of requirements or is academic in nature. If this is the case, you may want to consider a longer, more comprehensive cover letter.
Typically, three or four paragraphs are sufficient to whet the prospective employer's appetite and entice him or her to turn the page to your CV. The first paragraph should be an opening, but avoid terms like "hello", "hi", or "greetings". This isn't an email to a good friend - it's a professional letter.
The second (and perhaps third as well) paragraph should highlight your qualifications (using those key words from the advertisement). And the final paragraph should tell how to get in touch with you. (It may also include salary requirements if those are specifically requested.)
Proofread
Of course, it's critical to always proofread your cover letter before sending. (You might be surprised at the number of errors one cover can contain… and that usually results in the applicant never making it to the job interview stage.) Just to be on the safe side, ask someone else to read it, too. Then, sign it and attach it to your CV.
At this point, you'll know that you've done everything possible to make your cover letter (essentially your "calling card") work for you. Remember that it's not intended to take the place of your CV; it's meant to introduce the CV. Keep that in mind, and your odds of getting a phone call from your prospect will greatly increase.
You might also like...