Overcoming 'Lack of Education'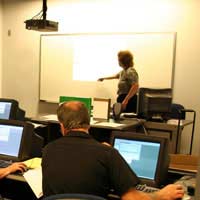 You hear it all the time: "Bill Gates dropped out of school," or "Albert Einstein was a terrible student…"
Though those statements might be true, Gates and Einstein are exceptions to the rule, and employers are hesitant to hire employees who do not have a formal education. However, there are practical ways for you to downplay your lack of education and highlight your achievements in your CV in an effort to encourage prospective employers to consider you for an interview or assignment.
Focus on Your Past Jobs and Volunteer Activities
If you don't have any credentials but have performed similar work to the kind for which you're applying, make sure you address that experience in your CV. Some places in your CV where you can focus on your accomplishments include your cover letter, summary of qualifications, and list of volunteer activities.
Additionally, if you've been in the workforce for a while, make sure that under your "work history" you note all the relevant transferable skills you were able to use and master. That way, you'll better your chances of getting a foot in the door, even though you have no degree.
Offer to Become an Intern
If you're serious about getting a job in an industry for which you have no educational background, you can always try offering yourself up to an organisation for an "internship" or "work experience". Doing so will allow you to get a feel for the field, and you'll be able to use your internship as a resource. You can also list it on your CV in your "education" section.
The one caveat is that most internships are unpaid; thus, you have to have a certain amount of flexibility and financial freedom to take on such a position.
List Your Education Last on Your Résumé or CV
If you feel that your educational credentials are lacklustre, make sure you list them on the last page of your CV.
Though many CVs begin with education experience listed at the top of the first page, doing this won't benefit you. And if you have no postsecondary education or training, you may want to omit an education section all together or simply list your secondary school.
Truly, there's absolutely no reason to keep something in your CV if it isn't going to help you obtain employment; and once you get to the interview, you can always explain in detail why you didn't include education on your CV, noting that even though you haven't attended university or a trade school, you're still highly qualified for the job.
Go Back to School for a Certification or Degree
One last idea for any job seeker looking to "beef up" his or her educational credentials is to enroll in a certificate or degree program. That way, in the "education" section of his or her CV, he or she can note that he or she is "Attending XYZ University to receive a degree in…"
When a prospective employer sees that you are presently taking courses, he or she will see that you're a go-getter who is interested in self-development. Besides, if you're enrolled at a school, you might be able to get some job seeking help as a side benefit; many institutes of higher learning offer career placement (or paid internship opportunities.)
Remember that there are always ways to downplay the weak areas of your CV and emphasise your strong points. Don't allow a lack of education to stop you from following your career goals.
You might also like...