Writing a Professional CV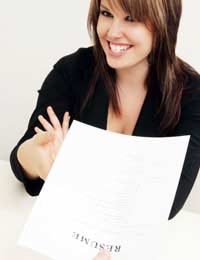 As a skilled business person, you need to always shine and project an image of strength and intelligence. Not surprisingly, that polished attitude should translate to your résumé or curriculum vitae (CV, Latin for "course of life"), a critical document to have if you're in the market for a new job.
The professional CV is like a general CV on caffeine - though all the elements of a standard CV are present, a little "kick" has been added to highlight the experiences and achievements that make you perfectly suited for a corporate, executive, or middle management position.
What elements are necessary to make your professional CV sparkle and attract the consideration of hiring partners or personnel managers? Obviously, you'll need the standard CV inclusions - contact information, education background, employment history - but you'll also need to be savvy and work in some more business-specific sections.
For example, one of the fastest ways to set your CV apart from all your competitors' is to include a statement of purpose immediately followed by a summary of measurable and relevant qualifications. Consider your statement as a sentence that tells the reader immediately about you so he or she can pinpoint why you should be considered for the job.
Sample Statements of Purpose
Or mission statements, as they are sometimes called, include:
Sales professional of fifteen years seeks managerial position with a medium-to-large corporation, preferably in the paper products industry.
Corporate accountant seeks a position with a Fortune 500 company where she can utilize her over five years of supervisory skills as a team leader.
As you can see, statements of purpose are very specifically worded to tell your audience a great deal about you in an extremely succinct phrase. However, they only disclose the beginning of your story. You'll need to support your initial statement with a summary of your qualifications, as noted below (using one of the aforementioned examples):
Statement of Purpose
Sales professional of fifteen years seeks managerial position with a medium-to-large corporation, preferably in the paper products industry.
Summary of Qualifications
Sold high-end technical equipment and office supplies business-to-business over a continuous 15 year period
Regularly netted over 25,000£ in sales per month between 2002 and the present
Supervised a staff of 24 for past three years
Won salesperson of the year award in 2000, 2001,2003, and 2005
Your bulleted summary of qualifications will essentially "back" your statement of purpose. Within a minute or two, a prospective employer can scan your CV and immediately know if he or she wants to read further (and, of course, you'll hope that they do.) The only caution is that your summary of qualifications be limited to no more than 5-7 bullet points; otherwise, it'll appear that you're dredging up any accomplishment possible just to fill in the space. Instead, pick your most memorable, significant, on-the-job moments to list.
By including these two items to your basic CV outline, you'll be upping the odds of getting a call to interview with your target firm. Rather than forcing the reader of your CV to dig through your credentials, you will have made it easier for him or her to glean your appropriateness for the professional job in a matter of moments. This could set you apart from other candidates, consequently boosting your chances of hearing the phone ring very soon.
You might also like...
My name is ubedullah I am a tille and marble mason
ubedullah
- 25-Jan-17 @ 6:22 PM