Creative Writing CV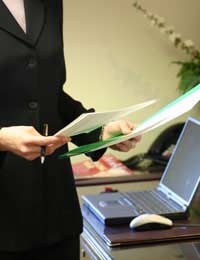 Interested in pursuing a professional freelance or onsite creative writing career? Just because you're an imaginative individual, you'll still need to have a standard curriculum vitae (CV) organised to highlight your experiences and credentials.
Accordingly, the major elements of a successful creative writing CV that attracts the attention of prospective employers and/or clients are noted below.
Contact Information
The header of your creative writing CV must include contact information so the recipient knows how to get in touch for an interview or to request further clips, samples, or writing materials. Thus, you'll need to include your name, telephone number(s), facsimile number (if applicable), professional website URL (if applicable) and email address.
If you're planning to submit your CV for local employment possibilities, you can also include your street address or postal box number. However, if you're trying for work-from-home positions, you may want to omit where you live, as it isn't pertinent (and could actually count against you).
Side Note: Some freelance authors think it's graphically appealing to include their "head shots" on their creative writing CVs; however, this is usually considered amateurish and smacks of greenness. Along the same lines, never add your or your family's details such as height, weight, spouse's name, kids' names, or hobbies. Save such personal data for a conversation post landing the gig or position.
Statement of Purpose
After your contact information, it's become popular to include a "statement of purpose" on your creative writing CV. This statement is generally one- or two-sentences and tells the reader at a glance why you're looking (and are perfectly suited) for the job. As an example, a creative author's statement of purpose might read:
"Seasoned creative writer seeks to pen entertaining and educational poems for children's magazines, newsletters, websites and related publications."
The more targeted your statement of purpose, the better your chance at enticing the hiring manager, editor, agent or publisher to give you a call. Be certain to reword your statement of purpose for each position!
Summary of Qualifications
After your statement of purpose, it's recommended that you include a bullet-point listing of your top qualifications. Limit this summary to between five and seven items, though; you'll risk overwhelming your recipient if you list more.
For instance, the CV writer whose statement of purpose was noted above might try to "sell" him- or herself by stressing the following qualifications:
Over seven years of professional creative writing experience
Published more than 50 times in local and national youth publications
Taught several online poetry writing classes
Mentored at-risk children by teaching creative writing techniques in after school programmes
Winner of the 2004 "Kids Poet" Award
Remember - these tidbits are not intended to be all-inclusive, but are meant to whet the proverbial appetite of the recipient.
Career Background
Obviously, you're trying to impress the reader of your CV; hence, you might need to change this section to "Recently Published Works" if you have held no specific writing positions or if your employment history is notably weak.
Should you choose to list where your work has been seen, make sure you add the date of publication as well as the title of each piece. (However, it's not necessary to include a link to the work; if the hiring person wants a copy, he or she will request one).
Education History (if applicable)
If you have a university degree, even if it's in a field other than creative writing, add it to your CV. Alternatively, if you didn't attend school after 16, you may wish to leave out a section devoted to education.
The education history section is the appropriate place to list any courses or classes you have taken during your journey to becoming a more qualified, credentialed creative writer as well as literary honours and awards.
Community Service Experiences (if applicable)
Have you helped underprivileged kids learn how to express themselves through poetry, short stories, or plays? Do you recite your amusing ditties to hospital residents twice a year? If so, the community service section is the ideal location to draw attention to the many ways you give back to your community.
Many creative writers leave out this information, assuming it won't make a difference to the CV reader. Ironically, though, it can actually have a strong appeal, especially if your recipient is interested in the same organisations and causes as you.
References (if applicable)
If you've had the opportunity to work with folks who are recognisable in the publishing or writing industry, you can include up to three of them as references. However, this section needn't be added to your CV if you've worked mainly with "unknowns" unless the job description specifically requests that you provide the names of people who can speak to your acumen and work ethic.
You might also like...
I will jobs in faiasalabad of Electrical Engeerning!
M.Bilal
- 18-Nov-14 @ 1:51 PM