Writing an Executive CV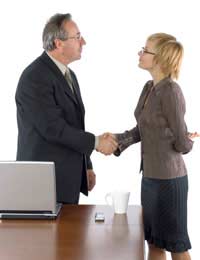 The executive résumé or curriculum vitae (CV) is a highly targeted document. In fact, because it is considered to be so incredibly specialised, many upper-level management job seekers lean toward paying someone else to write it for them. Thus, rather than make an error, they prefer to hedge their bets and allow a CV writing firm to package their strengths in the most effective way.
However, that's no reason to assume that you cannot write an executive CV from the privacy of your own home computer. You just need to stay on track and remember that to get an executive appointment, you must have and advertise your superior qualifications.
Below, we'll look at some of the methods you can use to send a clear-cut message to anyone reading your CV: This person is executive material.
Define "Executive"
What does the term "executive" mean to you? Someone who has 5-10 years of managerial experience? Someone who has run his or her own company? Someone who is considered a "mover and shaker" in the community? Depending upon your particular industry, the word "executive" will have different connotations.
For instance, in international business, an executive might be an individual who understands global trends as well as the fiscal concerns of other countries. However, an executive at a local financial institution might not need to understand yen and pesos, but he or she does need to have an unusually keen depth of knowledge about currency, interest rates, loans, solvency, debt, credit, and investments.
Make a List of Your Executive Achievements and Credentials
This is one of the most crucial steps to creating an executive CV that gets your phone ringing. Sit down for a period of time when you know you'll be uninterrupted and start brainstorming all the reasons you would make an excellent executive. And be certain to think beyond the obvious (such as that you're already a vice president or that you've run a home-based business for several years).
Instead, focus on what makes you unique within an executive context. For example, have you taught seminars or classes on a business or trade subject? If so, you can highlight that experience on your CV. Similarly, if you've sat on the board of directors for a local, national, or global association, you should absolutely mention it in your CV.
Having a bit of trouble coming up with your unique "selling points"? Ask a friend or trusted colleague to help you with your list. At this point, anything is fair game; you can always edit it later. Just make every effort to cover all your executive credentials, from the observable to the implied.
Create Your CV
Now, you should be ready to compile your executive CV. A successful formula will include (but are not limited to) the following sections:
Contact Information
Statement of Purpose (or Personal Mission Statement)
Summary of Qualifications (limited to 5-7 bullet points of measurable achievements)
Education History
Employment History
Appointments (such as being made an honorary chair, serving on a national board for a trade organisation)
Professional Memberships
Honors and Awards (these should be significant)
Lectures, Seminars, and Published Works
References (list three and choose the "heaviest hitters" you can for the biggest impact)
Obviously, depending upon your history, you may want to change the structure of your CV to position you in the best light. Hence, if your employment history is more impressive than your educational background, there's no reason to put your education first.
Tighten Your Text
After you've drafted your executive CV, it's time to go over it with the proverbial fine-toothed comb, continuously asking yourself the question, "Does this inclusion fit the profile of a high-powered executive?" If the answer to your query is "no", you need to either rework what you've written or to omit it from your document.
Additionally, it's imperative that you use the most active, objective language possible. Words such as "good" or "excellent" are vague and subjective; thus, it will behove you to leave them out. If you've written your CV well enough, you don't have to use "throw away" words; your CV will speak for itself.
Test Drive Your CV
Your last step is perhaps the hardest - asking for feedback. Send a copy to your friend from university. Ask your spouse to read over your CV. Attach it to an emailed note to your former supervisor. Just make sure that you aren't the only one who looks at your CV before it's sent off to prospective employers, or you could make silly errors such as misspellings or formatting mistakes.
In the end, you'll wind up with a powerful executive CV tailor made to snag you that comfy corner office.
You might also like...