Eligibility to Work in the UK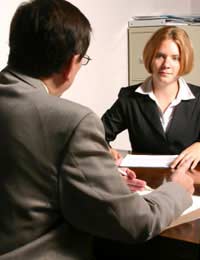 When it comes to employment foreign nationals are subject to the same legislation as British citizens. This legislation covers how they are treated and dealt with during the recruitment and selection process and, if entitled to work here in the UK, overseas nationals can expect the same treatment as UK nationals in all aspects of their employment including the same terms and conditions as laid out in their contract of employment. They can also expect the same fair treatment when their contract of employment comes to an end.
Who Doesn't Need Permission to Work in the UK
All British subjects and nationals (and their families) of all European Economic Area (EEA) countries have an automatic right to live and work in the UK. Commonwealth citizens, between the ages of 17 and 27, can also live and work in the UK legitimately on a 2 year working visa, although this is treated as a 'working holiday' visa so they should not be looking to pursue a career here and, generally, should only be looking for casual, part-time work of less than 25 hours a week in duration. Foreign students of any nationality studying in the UK also have the right to obtain casual, part-time employment as well but not to seek to pursue a career here.
Asylum Seekers
Unless they have explicit written permission to work in the UK, it is against the law to employ anybody who subject to immigration control, under section 8 of the Asylum and Immigration Act 1996.
How Employers can Protect Themselves from Breaking the Law
There are many examples of illegal foreign workers entering the UK and obtaining work illegally through fraudulent means in the form of obtaining false documentation which they try to pass off as legitimate proof that they are legally entitled to live and work in the UK. Therefore, it is imperative that employers are fully aware of what documents are approved by the Home Office to verify a foreign national's status and what constitutes 'proof' of status if they do not want to run the risk of being prosecuted for offering work to an illegal immigrant.
Legal Issues for Employers
Below is a list of approved documents which should be asked for as proof of status and practices which should be adopted. Proof also needs to be obtained from all workers, not simply those who you might suspect of being a foreign national who might not be eligible to live and work here. To assume someone is 'British' and someone else isn't also puts you at risk of being prosecuted under the UK's anti-discrimination laws.
You do not need to ask a job applicant about their immigration status but you must ask if they can provide proper evidence of their ability to work and live in the UK and to see original documentation of the evidence.
You should keep a photocopy of any documents you are shown on record for the entire duration of the employment period and for a further 6 months after the employment period has ended. In addition, you should also retain part 2 of the employee's P45 for a further 3 years after employment has ended to comply with Inland Revenue regulationsApproved documents.
Official document showing a National Insurance number – e.g. P45, letter from government agency, national insurance card.
Official letter which confirms the person has the legal right to live and work in the UK indefinitely or some other form of documentation which indicates this, e.g. a passport endorsement or letter from the Home Office.
Work permit from the DfEE.
Documents such as a passport, birth certificate, naturalisation or registration certificate which confirms UK citizenship or right of abode here.
Passport or national identity card if a member of one of the countries in the EEA.
This is by no means an exhaustive list of documents which can be used as supporting evidence and for more details, you should visit the Home Office's website.
Things to Watch Out for
It's important that, as an employer, you adopt a recruitment policy which includes everybody and is consistent for all job applicants and employees. If you assume incorrectly that a foreign national does not have the right to live and work in the UK, you run the risk of being prosecuted under the UK's discrimination laws.
And, to ensure fairness to all, you should, as an employer, maintain an ongoing monitoring procedure to ensure that your recruitment process is always equal and fair to all.
You might also like...
I want to ask if I am eligible to work in UK. I am a commis chef in a 5 star hotel ,for almost 2 years here in the Philippines. I want to ask if I can apply online for a job as a chef in UK.
CHANT
- 15-Aug-14 @ 9:05 AM
hello I arrive at uk at January 2014..My wife went to study in uk for masters. I and the children accompany my wife.I was the general 4tier dep.partner. am I eligible to work in the UK? My wife's passport states are entitled to work for 20 hours. but not in my passport stamped as such my wife passport
syahnaz
- 6-Mar-14 @ 8:47 PM
I wanna know about every document that is understood as a legal document to live and work in the US and other countries.
pushpendra
- 20-Sep-12 @ 10:45 AM
Hi every body;I live in Algeria I'm a specialist in IT ,i've just read your document about Eligibility to Work in the UK i'am wondering if I have the right to work in uk, what about the work permits, I'm confused.
moh44
- 3-Jul-12 @ 2:40 PM