Internships: What Are the New Rules?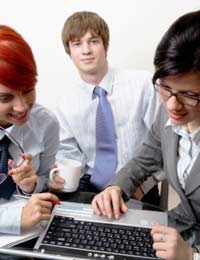 Many employers rely on interns to help them with vital tasks. Taking on employees is an expensive proposition, and interns provide a cost-effective way of getting some extra help while providing someone with some useful experience.
But, while many firms run genuine, mutually beneficial internship schemes, it is a sad reality that an increasing number of less scrupulous businesses use internships simply as cheap labour. As the employment market has become increasingly tough, many individuals have turned to unpaid internships as a way of building up experience and making themselves more attractive to employers. This has been exploited by some firms eager to delegate menial tasks and avoid having to pay for it.
In response, the government has provided a clarification about the law on the minimum wage, and the way that it affects internships. If you are contemplating applying for an internship it is vital that you are aware of the rules.
What Does the Law Say?
Legally, anyone who is working must be paid at least the National Minimum Wage. This often changes in line with inflation, but is set at £6.08 for those aged 21 and over from October 2011.
As the government has recently explained, many interns should actually be counted as workers in a legal sense and, as a result, should be paid at least the minimum wage. Generally speaking, if the individual has a clearly defined role or set of tasks, as well as set hours, they are likely to be classed as a worker.
So Can I No Longer Find an Internship?
If the internship involves a defined role and set working hours, you will almost certainly have to be paid for it – particularly if it is a lengthy engagament. Of course, this may significantly reduce the number of internships on offer as firms choose not to spend the money.
But while this clarification might spell the end of lengthy internships that basically amount to employment, the government recognises that genuine internships do play an important role in the world of work. If an employer wishes to take on interns for shorter periods of time, and perhaps with more flexible working conditions, they are free to do so. They are also more likely to provide you with a broad range of tasks, in order to ensure that the arrangement is not construed as one of employment - and this is good news for those seeking a more rounded view of a business or industry.
The TUC has long lobbied the government to crack down on what it sees as exploitative internships, and it has had some success. Many employers have been forced to remove internship adverts from recruitment sites, and some have been made to either give up their interns or start paying them.
There is nothing wrong with internships. But employers must ensure that they operate within the law, and you must be confident that you are properly remunerated for your work. The government has urged members of the public to report firms that may be in violation of the National Minimum Wage laws. If you are suspicious you should contact HM Revenue and Customs, which has responsibility for enforcement.
You might also like...