Career and Interview Coaching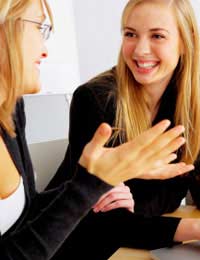 Career Coaching
What is career coaching? This is designed to make sure that individuals have the knowledge and skills they need to move up or move across in their career, or even take their career in a completely new direction. It is not life coaching, which is more concerned with personal development, but like life coaching, it has grown massively in the past few years.
People are taking more control over their own careers than they ever used to, when they were largely in the hands of the company they worked for.
Career coaching typically involves several sessions with a career coach, which will of course cost some money. While you may think this is an activity you might be able to carry out on your own, it is undoubtedly useful to get an external point of view – especially that of an expert. Whether you ultimately choose to take the paid route is entirely up to you.
In any case, you will need to decide whether your career needs a boost. You can begin the process by asking yourself some questions.
Do you feel you are achieving your potential?
Do you feel you are at a crossroads in your career?
Are you happy in your current role?
Are you fulfilling your passion?
In these days of economic hardship, there are likely to be many people who have been made redundant, or suffered from "cut-backs". Despite that bad news, it may be a good time to re-assess you career needs.
You may be successful; you may be earning a good living. However, that doesn't mean that you are reaching your potential or finding your passion.
Career coaching can help you reveal your true self – in terms of your working life. What are your true priorities and what fresh options may be open to you? A coach will help to provide focus and encouragement, and with support and guidance, help you to clarify and expand your vision of what is possible and right for you.
Interview Coaching
The TV programme The Apprentice is described as "the interview from hell" – a 12-week series of tasks and tests, including one programme dedicated specifically to real interviews with interviewers who pull no punches. While your next job interview may not be quite that bad, there is little doubt that most people find the interview process daunting.
Interview coaching is designed to help you with the process. It's not just about the interview itself, but it's about key areas concerned with interviews, such as:
Interview preparation
Examining your interview technique
Typical interview questions – and answers
Recruitment scenarios (e.g. interview panels, role-playing, psychometric tests)
Thinking on your feet
Again, an interview coaching programme is usually recommended by practitioners, and again, there will be a cost involved. You can read much of this information in books, but getting feedback from a real person is something you could never achieve by reading alone. This feedback can be invaluable in tuning or even fine-tuning your interview skills for the modern work place. Very useful, but almost as daunting as the real thing, interview coaching usually involves a mock interview which is recorded – so you can appraise yourself!
One thing that is crucial – and often overlooked by interviewees – is the relationship of the interviewee to his/her CV. Remember that, so far, all the interviewer knows about you is what he/she has read on your CV. If you go into the interview without a comprehensive knowledge of what is on your CV, you're going to find that you and the interviewer are talking about two different people – yet, they're both you! It sounds obvious, but know what's on your own CV!
Interview coaching will look at your current interview skills and look at ways to improve them – there's always room for improvement. You will find that the more you discuss it, the more you practise your interview technique – like anything – the easier it will become.
Body language is a key feature of interviews in two ways. Firstly your own – it is important to understand basic body language and what the interviewer may read into the way you sit, and move. Secondly, it is useful to have some body language skills so that you can begin to read the interviewer. This is not as important as your own body language, but can be useful.
Improving your interview technique can be useful even if you're not looking for a new job. We're always under scrutiny, even in our current roles, and learning how to present yourself in the best light is always useful.
You might also like...