Finding a Reputable CV Writing Service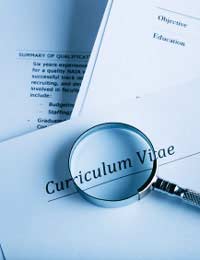 In today's era of cyber-everything, it's likely that any CV (curriculum vitae) writing service you come across will be (for all intents and purposes) headquartered online. Thus, you must be especially vigilant to ensure that your CV is written by professionals who know their craft.
Though there is no way to guarantee that any CV writing service is 100% reputable, you can take some measures to increase the chance that the company you choose is ready to treat you like the important client you are.
CV Writing Staff
Don't be afraid to ask any CV writing company you're investigating exactly where they get their CV authors. Trustworthy services will seek out writers who have expertise in CV writing (or at least interviewing and hiring), such as those from fields such as human relations and personnel management. What you don't want to discover is that your CV writing service hires anyone and everyone; that translates to potentially disastrous results for customers.
Expertise in Your Field
The best CV writing service in the world may not be what you need if they aren't acquainted with your field. For instance, if you need a CV for engineering and the CV writing service you're looking into doesn't seem to have any experience writing CVs for engineers, it's wise to go elsewhere.
Value for Money
Ironically, if you're looking for a reputable CV writing service, it's critical to avoid heading straight for the one with the lowest advertised price. Instead, you'll want to consider the value of the product and service that's being offered. For instance, is the company going to simply "slap" your information into an all-purpose template for £15? If so, even though the price is incredibly inexpensive, you'll wind up getting little in return. It's better to pay more for a CV that's going to get you interviews that to pay less for one that will wind up in the rubbish bin.
Always Check the Guarantee
All reputable CV writing services are going to have guarantees on their work, but the terms of those guarantees vary widely. Some offer a guarantee only on the first draft that they write and send – if you don't like it, you don't have to pay all or a portion of it, but you've basically wasted time. Other companies offer a guarantee that they will produce a satisfactory draft in "x" number of days. Always check out the guarantee and read the fine print to ensure it's a contract with which you can live.
Turnaround Time
If you need a CV by Wednesday and it's already Monday afternoon, you need a service with a guaranteed 24-hour (or less) turnaround. There are plenty of CV writing services out there that make this offer, but be cautious – if they aren't asking for much money, you might be better off doing it yourself. Choose a CV writing service whose asking price seems "in sync" with your time constraints.
Longevity
While not absolutely essential, it's quite comforting to work with a CV writing service that has been in the business for many years. This type of longevity gives you a strong sense that they are probably well-regarded in their field.
Ease of Use
Finally, if you're going to work with an online-based CV writing service, their website should be clear-cut and simple-to-use. If it's difficult or confusing, you're probably going to be frustrated as a client… and that will likely translate to their creating a less-than-acceptable product for you.
You might also like...