Negotiate a Better Settlement...and Keep Your Job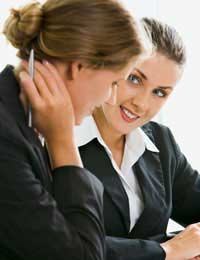 Many people are forced into looking for a new job not because they want to move on, but because they are simply not being paid enough. This has seldom been as common as in the current, difficult economic climate.
But it is worth remembering that quitting your job is not your only option. Instead, through a carefully managed process of negotiation you can often get yourself a better settlement – and keep your job.
How do I start the negotiation process?
Beginning the process of negotiation is perhaps the most daunting task. Many people shy away from this, because it can feel confrontational. But you should remember that your career is the most important thing in this situation.
You should begin by asking for a meeting with your line manager. It is generally better to approach these things face to face, rather than by email. Set out your concerns, and explain your position clearly.
What should I ask for?
You should make sure that you have your objectives clearly set out in your head before you begin the negotiation process. You may want to set out a baseline – that is, the lowest figure you will accept. Of course, your flexibility will depend on how important the pay rise is to you.
It is also important to remember that your employer's hands may well be tied, particularly in the current financial climate. If there is simply no more money available, they will obviously be unable to accede to your requests. Similarly, depending on the size of the organisation, you may be told that the budget for the year has already been set. In these cases you will need to decide whether or not to take your request to a higher level.
You should also remember that a salary change is not the only option available. Depending on what is on offer, you may request an increase in non-salary employee benefits. Employers are often more likely to agree to this as it is generally less costly.
Should I keep my options open?
A recent survey suggested that as many as a quarter of all current employees are secretly looking for more work. If you chose to apply for other positions while negotiating with your current employers, you would therefore not be alone.
You should remember, though, that news travels fast, particularly in small industries. You should therefore think carefully before sending out applications, and should ask for extra discretion if you work in a particularly sensitive position.
What if they won't budge?
If your current employer simply will not agree to your requests, your next step will inevitably depend on your personal circumstances. If you really need the extra money, you will presumably be forced to move on.
It is vital to remember, though, that you may not simply be able to walk into a new job. You should therefore think carefully before you leave, particularly if you do not have another position lined up.
Negotiating a better pay settlement is not a particularly pleasant task, and is one that people seldom relish. But, if you feel that you are not being paid enough for your work, it is important that you make your feelings known.
You might also like...