Student's Quest to Find Job After Gap Year: A Case Study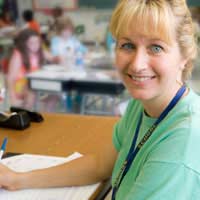 Andrea Smith was an academic high achiever who gained 4 grade As in her A levels French, English, Spanish and History. She gained a place at Birmingham University to study French and Spanish but was niggled by doubts. She knew that she would not want to pursue an academic or school teaching career and had no idea what her career goals were.
Now 35, Andrea recalls, "At that stage in my life I had no idea what I was going to do. Without that gap year I'm really not sure what route I would have taken. Maybe I would have felt forced into becoming a schoolteacher which I really didn't want to do."
Family and friends all advised her to concentrate on her university course and not worry about her career goals for the present. Andrea said of her predicament: "I'd been working so hard for months and needed some time out from study and books. I needed to go somewhere different, meet different kinds of people and just do something different. "
Working and Learning in Spain
Andrea went to Salamanca in Spain to work as an au pair and improve her oral Spanish. While there she attended Spanish language courses at Salamanca University. She met a huge range of people and enjoyed the courses which were very stimulating and gave her time off from looking after the children in a Spanish family.
"What a great time I had in Salamanca," reflects Andrea. "While I was there I made some great friends, met wonderful and fascinating people. For example Maria a medical student who took me to eat with her family who made me so welcome in their home. The people I met were warm and friendly and for the first time in ages I felt relaxed and happy while improving my spoken Spanish no end! The family I worked for were good to me too but I felt I had to move on from being an au pair."
Andrea decided to leave Salamanca and get a job in another city teaching English. She went to Barcelona and used her new savings to fund a short TEFL course (teaching English as a Foreign Language). Armed with this new qualification she taught small classes in a language school in Barcelona for the rest of the summer. The school principal asked her if she could stay on for the rest of the year and she happily agreed.
"Now I felt I was making steps for my career and that teaching English was such fun and so rewarding. I felt I had found my niche in life and was encouraged to stay on at the school until the start of my uni course in October."
Andrea was tempted to stay in Barcelona at her new job and give up the idea of university. But common sense prevailed and she returned to England to take up her university place as planned.
Useful Gap Year
Andrea says of her gap year and the experience it gave her: "I learned so much in that year abroad. I met lots of people and grew in confidence. Career wise it was an excellent move as I knew I wanted to take the Diploma in TEFL and then an MA and that I could always get a job teaching English. The year abroad gave me a solid base to work on for the future, and I had a true incentive to work hard at uni. I went back to the language school in Barcelona each summer until the end of my degree course.
"When I finished uni and got a good upper second degree I decided on TEFL as my career. I took the Diploma in TEFL and then an MA all the time keeping up my teaching. Since then I've had a fascinating career travelling all over the world and have never regretted taking a gap year between school and uni – it was the best thing I ever did! When it came to writing my CV I was able to show that there were no gaps at all and also that I had developed excellent skills for the working world – I had moved on from school to the working world, and developed an entirely new set of skills in working with the students and staff."
You might also like...