Writing a Combination CV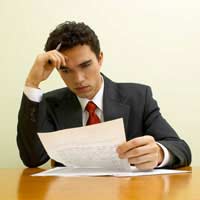 The combination résumé or curriculum vitae (CV) has it all - good looks, weight, and just the right attention to detail. In fact, when it lands on recruiters' desks, it's often met with a favourable response. What makes this type of CV so attractive? Below, we'll look at three of the top reasons.
Relevance
The combination CV doesn't waste prospective employers' time; typically, it begins with a hard-hitting summary of qualifications and ends with a chronological organisation of education, employment, and volunteer activities.
In analogical terms, the first part of the combination CV is like a house; the rest of it is akin to a sturdy foundation. Hence, the flow of the combination CV looks something like this:
Personal Information - name, address, contact data.
Statement of Purpose - a sentence or two that specifies why you're seeking employment and what kind of position you hope to obtain.
Summary of Qualifications - a bullet-point listing of achievements and skills that make you a perfect person to hold this job.
Special Skills (optional) - this is a good place to insert any unusual qualifications you have, such as fluency in a second language or CPR training
Honors and Awards (optional) - if you've been recognised for your achievements, this is the place to list them.
Education History - here, it's appropriate to cite all your degrees or certifications; if you have no postsecondary education, omit this section.
Employment Background - at this point, you can list all (or most) of your previous employers, typically in reverse chronological order; if you have no employment history, list internships held during your university years or leave this section out.
Volunteer Activities (optional) - again, list in reverse chronological order all pertinent volunteer positions you've held over the past few years, but only if you feel they will benefit you as a job seeker (this is especially useful for the first-time job seeker with little employment history.)
References (optional) - you don't always need to include references on your CV, but if you choose to, you can insert them here.
Recognition
As mentioned previously, many employers are very familiar with combination CVs; they understand how to peruse them and they can quickly get a "feel" for who you are, based on what you tell them about yourself. Thus, when they receive your combination CV, they may just feel more comfortable about calling you in for an initial interview.
Work this innate comfort level to your advantage by packing your CV full of measurable accomplishments and strong supporting evidence to your candidacy for employment.
Visual Appeal
The combination CV is typically a very attractive package. It is usually an incredibly powerful document when pulled together tightly and edited thoroughly to ensure no grammatical or formatting errors are present.
Though many people scoff at the notion that the way a CV appears has anything to do with your chances of snagging an interview, it's important to remember that hiring managers are human, too. Thus, unless your CV is being screened by a computer program (which does occur upon occasion in our technology-driven society), you want to put your proverbial "best foot" forward with a pleasing, eye-catching CV.
Of course, this doesn't mean you have to go overboard - stick with one font type and leave out the graphics (unless you have a personal logo) for maximum influence.
A Final Word…
Above all else, it's important to make sure that your CV, regardless of the type you choose to send out to prospective employers, positively and accurately reflects who you are as an individual and where you want to wind up professionally. If the combination CV suits your needs, run with it and enjoy the process; but if you feel that another type of CV would better promote who you are, feel free to use that style instead.
Never forget that the landscape of CVs is changing all the time, and there's always room for a little innovation. Perhaps you'll pull together a new way of promoting one's credentials; you'll never know until you take the plunge.
You might also like...