Writing a Skills-Based CV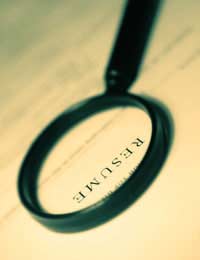 Want to put together a résumé or curriculum vitae (CV) that turns heads and gets you an interview? Try writing one that's skills-based, thereby "upping" your chances of winning the position you want.
What is a skills-based CV?
In simple terms, a skills-based CV is a very targeted document that is meant to highlight your expertise.
Though all CVs do this to some degree, a skills-based one does not spend as much time focusing on when your experience occurred; instead, it highlights the expertise that you have without putting too much emphasis on the timeframes involved. As a result, the person receiving your skills-based CV will be drawn to your qualifications rather than to when you learned those qualifications.
How does a skills-based CV differ from other types of CVs?
Again, all CVs are useful, but a skills-based CV is very focused. Unlike a chronological CV where all proficiency is highlighted in reverse chronological order, a skills-based CV focuses not so much on when you gained a certain knowledge but what knowledge you gained. Consequently, it's common for skills-based CVs to put little emphasis on dates and more emphasis on qualifications, honors, education, and achievements.
In what situations should you use a skills-based CV?
Often, skills-based CVs are used by first-time job applicants who may have little or no prior work history. And interestingly, this kind of focused CV may also be used by mature job seekers who are concerned about age-bias.
In the case of the individual who is new to the world of employment (or is re-entering a field after a number of years), the skills-based CV will allow him or her to emphasize his or her credentials regardless of any past employment record.
Thus, this CV writer might stress knowledge of a second language or understanding of a complicated technical procedure to divert attention away from his or her lack of on-the-job experience.
What to include in a skills-based CV
The most important elements you should always have in a skills-based CV are those pertinent to the job for which you are applying. This means that even if you're an accomplished pianist, you will probably want to leave that fact out when applying for a position as a medical office receptionist. However, you will want to include your typing skills and/or your comfort level transcribing materials.
Though it can be difficult to omit aptitude or successes of which you are proud, it's best to put them aside if they don't directly contribute to the aim of your skills-based CV. After all, you can always use those tidbits to "wow" your interviewers later.
Other advice regarding skills-based CVs
The skills-based CV is very specific; thus, any achievements listed should be measurable, documented, and, above all, truthful. For instance, if you say that you won an award, you may be asked to present evidence of that honor; it would be quite embarrassing if you could not do so.
If you choose to include references in your skills-based CV (and many people do), make sure those references can back up all your claims. Try to choose people who can speak to your qualifications and not simply your character. Though it's common to put at least one "personal" reference in your CV, that individual should ideally have a first-hand knowledge of your ability.
Finally, make sure you take your skills-based CV with you to your interview. It can be a wonderful document to refer to should you suddenly feel overwhelmed during your face-to-face. You'll also be making certain that you forget no relevant items during your time with a prospective employer.
You might also like...