Writing a Functional CV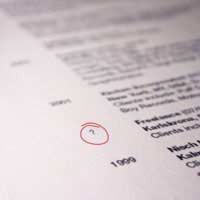 The functional résumé or curriculum vitae (CV) may be the proverbial "black sheep" of the CV family because of its somewhat tawdry reputation (many use functional CVs to "hide" certain facts from employers), but it still comes in handy in a few situations.
Truly, this form of CV is unique; typically, dates are buried or eliminated and what is stressed is the individual's knowledge that directly relates to the job for which he or she is applying.
For example, in a traditional CV, an "Employment History" would read as:
2004-2006 - ABC Company - Call Center Associate
- sold products and services via telephone to national buyers
- won associate of the month award March 2005, April 2005, and January 2006
-attended seminars and trainings on customer service management
- learned and operated customer prospecting and retention software
1996-1998 - XYZ, Inc.
-Customer Service Representative
- evaluated and resolved customer issues (i.e., complaints, concerns)
- performed administrative duties
Though what is listed above is perfectly reasonable, it also begs the question, "What happened between 1998 and 2004?" Perhaps the individual took a break from working to raise a family or take care of sick relatives; maybe he or she worked at a company with a terrible reputation; or, possibly, the CV writer tried to write a novel… and never finished.
The problem with this CV is that it might create too many concerns from a prospective employers' point of view. Consequently, some CV authors utilize the functional CV format as a way of "getting around" common issues.
Hence, the CV information above would be reformatted to look like:
Sales Experience
- sold products and services via telephone for ABC Company to national buyers for three years
- evaluated and resolved customer issues (i.e., complaints, concerns) for XYZ, Inc. for two years
Honors and Awards
- won ABC Company's "Associate of the Month" award three times in a 10-month period
Sales Education
- attended seminars and trainings on customer service management
- learned and operated customer prospecting and retention software
Of course, even though the latter example does not raise the same concerns of the first sample CV, it is certainly "risky" in terms of its unconventionality. Yet many people use this CV writing technique if they feel that a conventional CV just isn't appropriate.
Here, we'll look at some of the times when sending out a functional CV makes good (or better) business sense.
You're Just Starting Out
Nothing is as daunting as writing your first CV, especially when you realize to your horror that you have little to put under your "education" section. Instead of fretting over what you lack, why not promote the skills you have?
A functional CV does not have to be written chronologically; instead, it is focused on the abilities you have mastered, regardless of when you achieved certifications or worked on certain projects. Thus, it's perfect for the first-time job seeker right out of university because it allows him or her to highlight skills that were learned during internships or while volunteering for nonprofits.
You're Midway (or More) through Your Career
For people who are worried about age-bias when it comes to being considered for a position, the functional CV could provide a little relief. You won't have to "spill the beans" regarding how old you are, because dates are customarily eliminated from this type of document. Therefore, all that remains is a CV highlighting your qualifications rather than the fact that you're over 45 (which could potentially eliminate you from the interview pool.)
You've Been "Job-Jumping"
Prospective employers don't like to see a lot of "job jumping" on CVs, so if you've worked for many businesses over a relatively short amount of time, a functional CV might get you in the door for a face-to-face meeting.
Even if you didn't intentionally set out to "leap" from one position to the next (for instance, you might have been downsized or the company you worked for could have declared bankruptcy), a chronological CV could make it look that way. Hence, a functional CV could give you an improved chance at consideration.
One caveat, though - personnel assistants who are hired to "weed out" CVs sometimes scrap functional ones because they assume that the CV writer has something to hide. If you know your CV is going to be screened in this manner (rather than landing right on the decision-makers desk), you might want to consider writing a combination CV or an inventory CV instead.
You Have Many "Gaps" in Your CV
If you have been out of work for a while, you might want to create a functional CV so those gaps aren't as noticeable. This is especially the case for men or women who have set aside their career pursuits to raise families. A chronological CV might raise eyebrows and create questions if you have many of these "holes".
You Were Asked to Leave a Position
It has happened to many excellent professionals. One day they're working, the next, they are asked to leave. If that was the case for you and you wound up unemployed or taking on "odd jobs", you may want to turn to a functional CV to mask the fact that you were fired. Again, the person(s) reviewing your credentials might become a tad suspicious, but this type of CV could give you an inch more of a "leg up", and that's all you might need to snag a precious interview.
You might also like...