Writing a Medical CV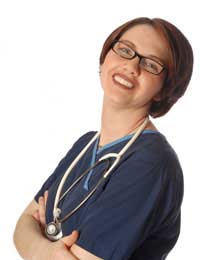 The guidelines for medical résumés or curriculum vitae (CVs) are a bit different than those for other career seekers. This is because a Doctor's CV must illustrate his or her ability to expertly handle medical cases (including those that are potentially life-threatening.) Thus, the person receiving the medical CV must feel confident that the job applicant is going to be a qualified medical provider.
For this reason, the medical CV is usually a rather long document that includes several sections not found in other types of CVs. Here, we'll look at a few of those special additions which assist the medical CV writer in convincing prospective employers of his or her credentials and expertise.
Internships, Residencies, & Fellowships
Medical students typically undertake one or more post-graduate training assignments. Whether in the form of fellowships, residencies, or internships, these experiences help young doctors become more skilled at their chosen crafts. Your future employers will need to know exactly where and when you trained in a post-grad capacity; therefore, medical CV writers generally provide this information on the first page of their medical CV, right after their undergraduate education histories.
Academic Appointments, Et Cetera
If you've taught any courses (including during your under- or early graduate years), you should include them in your medical CV. By listing them, you will show you were deemed proficient by an accredited college, university, or medical center in one or more topic areas. This information will also give the readers of your CV a better understanding of where your know-how lies; after all, it's uncommon for persons to teach courses for which they are unqualified. Additionally, make sure you include any invitations you've received to lecture at national or international events.
Published Works
If you're in the medical profession, you've undoubtedly come to realise that the more you publish, the greater your reputation will be as a leader in your field. You'll want to highlight those achievements for your CV recipient(s) by detailing every abstract, article, editorial, book review, essay, opinion piece, book, or other medically-related printed work. Of course, it's not necessary to include a synopsis of each one; a simple bibliography style listing will do. As you advance through your career, expect this list to grow. Medical CVs are not constrained by page limits and often are quite thick after the physician has practiced for numerous years.
Memberships
Medical professionals usually join at least one medical society; for example, a neurologist might choose to become an active member in the International Society for Pediatric Neurosurgery. Your medical CV should include a list of all those places for which you now are or previously were a member.
Grants
Want to further impress the people looking over your medical CV? If you've ever received a grant or other financial award to underwrite medical research or public education, you should absolutely provide documentation of those honors. After all, a prospective employer will probably see the benefit in having someone on staff who knows how to raise funds. (Believe it or not, the ability to "unearth" funding streams is a definite talent; many excellent medical professionals are simply not able to research and deliver grants.)
Committee Appointments
If you ever sat on a committee, it's important to note it on your medical CV. This includes hospital committees, university committees, national committees, nonprofit organisation committees, and professional committees. Again, after many years in practice, you may find that your list extends beyond a whole sheet of paper, but that's completely acceptable.
Above all else, make sure you keep your medical CV up-to-date. Even though you might never change employers, you'll undoubtedly use your CV for many purposes, as will the medical center or university for which you work. In fact, every few months, it's a good idea to dust your CV off and add new details.
You might also like...
Specialist of Obstetrics and Gynecology. Hold Arab Board certificate of Obstetrics and Gynecology.
nawal
- 27-Jan-14 @ 7:10 PM
Over 10 years professional experience in medical insurance company. Able to work under high pressure situations Proven ability to solve problems, communicate and manage all healthcare operations. Excellent time management and task prioritization. executive with expertise in healthcare administration. Successful track record of administrating operations, strategic planning.
waelgad67
- 26-Aug-12 @ 8:38 PM