Questions that May Be Asked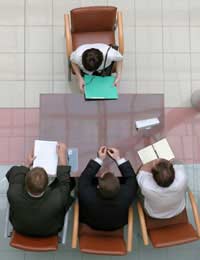 If you have an interview coming up, you're no doubt preparing for the "big event." Thus, you should be aware of some of the most common questions you're likely to be asked by your interviewer(s) so you can respond with tact, grace, and ease.
Why do you want to work here?
This question is a great opening for you to report all you know about the company and the position. If you've done your homework, you can use specifics, such as, "I've always wanted to work for a business that brings in "x amount" of pounds per year."
Or you could say, "I know many of the employees at XYZ Enterprises and they tell me what a wonderful company it is." Just make sure that your answer is 100% positive; don't mention that you would take any job just to get away from your boss, even if that's how you really feel.
Why do you want to leave your current employer?
You should be both truthful and tactful when answering this question.
Rather than badmouthing your supervisor or company, choose a simple way of answering. For example, a reply like, "I feel I've gone as far as I can position-wise at my employer and I want to work somewhere where there are more opportunities for personal and professional growth and development."
Alternately, you could say, "I have a difference of opinion as far as the direction of the company is concerned, so I feel it's in my best interest to move to a corporation that shares my professional philosophies of business."
What can you bring to our company?
This is the perfect opportunity for you to highlight all your achievements. Tell your interviewer about every honor or award that you received as well as about all the measurable successes you've had that will be pertinent to the position for which you're applying.
Tell me a little more about yourself…
At this point, many interviewees make the error of telling all about their personal interests and possibly putting their feet in their mouths. Instead, plan your answer more strategically.
Talk about your commitment to the community, to the growth of a team, to personal development, et cetera. This way, you'll be painting a picture of yourself as a positive go-getter.
What are your greatest strengths?
Again, you can highlight all your accomplishments with your answer to this question.
Talk about the week you worked until 11:00 p.m. each evening just to make the client happy. Or discuss a new approach you took to computer programming that helped your business save time and money. Pick 3-4 of your strongest points and hammer them hard, but don't be long-winded.
What are your biggest weaknesses?
Red flag alert! This is one of those areas where interviewees tend to blurt out inappropriate comments, such as, "I'm lazy," or "I don't like being told what to do."
You won't get ahead in business by being brutally blunt, so phrase your "weaknesses" carefully. For instance, you can always disguise a strength as a weakness, as in, "I am a bit of a perfectionist, which means I tend to stay at work until the job gets done."
If that's not your style, choose one challenge that could be easily remedied, such as, "I wish I knew more about the area of telemarketing… I would like to attend seminars on the topic so I can be the best customer service representative possible."
What if you disagree with something your supervisor asks you to do?
This question is meant to see how you handle potential conflict, so be judicious in your answer.
If you had a past experience where this type of concern came into play, now is the perfect time to cite it as an example of how you and your supervisor worked things out. Thus, you'll be showing your interviewer (and possibly your future boss) that you can solve problems without resulting to name-calling or fits of rage.
How do you handle conflict with coworkers?
Similarly, this inquiry is intended to see if you say something negative. But don't fall into that trap. Instead, focus your reply on how you try to see both sides of an issue or how you like to maintain a level of professionalism even in the face of controversy or heightened emotions.
What are your salary requirements?
The job interview is never the place to discuss remuneration. Thus, it's best to avoid answering this question directly.
A good way to bypass giving out a number or agreeing to a salary amount is to turn the tables on the interviewer by asking, "Are you offering me the job?" When he or she says, surprised, "No…", you can quickly insert, "Well, should we decide to work with one another, I'm certain we can come up with a figure that benefits us both."
It's a quick and painless way to avoid having to lock yourself into a figure.
Do you have any questions for me (or us)?
Before and during your interview, keep a running list of questions on a notepad. Then, when the interviewer asks you this question, you can refer to what you wanted to know quickly and efficiently.
Perhaps all your queries will have been answered during the course of the interview; but chances are that you'll have some concerns left unanswered.
By preparing for your interview like a savvy chess player, you'll be able to anticipate many of the questions that stump many applicants. Consequently, you may be getting a phone call offering you a lucrative position.
You might also like...