What to Wear to an Interview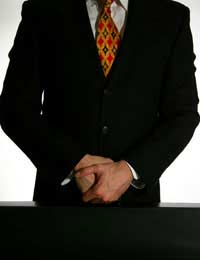 Does appearance really matter when it comes to interviewing? You bet. Though many bemoan the fact that humans tend to judge one another on how they look, it's a truth that cannot be overlooked by the job seeker.
However, this doesn't mean you have to exude a radiant beauty or exemplify the definition of "perfection". Truly, you can be a plain Jane or an ordinary Oliver and still wow a prospective employer with your professionalism.
Dress the Part
Like an actor preparing for an audition, you have to dress appropriately, and that usually translates to upscale, reserved wear. For women, a dark blue or neutral coloured suit paired with attractive (but not outrageous) shoes and transparent stockings (rather than white, blue, or black) makes a tidy first impression. Men should also err on the side of conservatism, opting for traditional suits and ties which are appropriate (not "loud".)
Cut, Comb, and Shave
Many people forget that their hairstyles need to complement their attire, so it's a good idea to visit your hairdresser or barber before a big interview for a bit of a touch-up. Additionally, you may want to tone down a particularly trendy cut in favour of something a little more conventional. Males should always shave and neatly trim any facial hair before their face-to-face meetings, as this adds a neatness to their overall "package."
Be certain to bring a brush or comb and give yourself a once-over before your appointment, paying particularly attention to the back of your hair (many people forget this area since it's "out of sight, out of mind"; just remember that when you walk out of the room, your interviewer's last glimpse of you will be the back of your head.)
Piercings
Today, many people have visible piercings in a variety of areas, including on the face and in the mouth. It's recommended that you remove all jewellery of this nature for your job interview, as the piercings tend to detract from your overall presentation. (And if you get the position, you may be asked to permanently keep from wearing certain piercings depending upon the requirements for personnel, so it's best to start off on the right foot.)
Tattoos
Though you may be proud of your body art, the job interview isn't a place to display it. Unless you have a tattoo in a place that's too difficult or impossible to hide, you might want to consider covering it up. After all, you don't want your interviewer to be staring at the picture of a green and brown snake crawling up your arm while you're trying to make a point.
Make-up
Most women's daily regimens involve the application of make-up. That being said, it's critical to ask for feedback from a trusted friend or family member before entering the interview room. There's nothing worse than a job applicant whose gaudy red lips and orange-tinted cheeks scream, "Unprofessional." Apply just enough foundation, eye shadow, mascara, and powder to feel confident, but don't overdo it. This is a business appointment, not a date at a club.
Jewellery
Gold and silver jewellery always (in moderation, of course) have a classy look about them. Avoid wearing bracelets, earrings, or other adornments which dangle too much or are distractions. If you're at all unsure about how a particular piece of jewellery will be received by an interviewer, leave it at home and wear it for a more casual occasion.
Miscellaneous
Your appearance also includes your fingernails and teeth. Make sure that you've brushed properly before your meeting (and try to avoid foods heavily spiced with garlic or onion the night prior to your interview lest your breath smell a tad noxious.) Also, clean and trim your nails; believe it or not, your interviewer will notice if you extend a hand that has been well-groomed. You don't need to get a manicure; just be conscientious and neat.
By paying attention to what may seem like the "little" items, there's a much higher chance that your interviewer will focus his or her attention on what you're saying.
You might also like...