Dealing With Discrimination at Work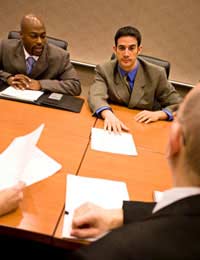 Nobody should have to tolerate discrimination at work and fortunately, there are laws to protect us an action we can take both informally and, if necessary, by formally going through the legal process.
As an employer, you are not entitled to discriminate against any of your workers on the following grounds:
Age
Race
Sex
Disability
Ethnic/national origin
Colour
Sexual orientation
Religion or religious beliefs
How do You Define Discrimination?
Discrimination can be direct – for example, where one employee is treated less favourably than another because of one the reasons listed above. Indirect discrimination can also occur whereby employer' practices would seem to indicate that a worker, or group of workers would lose out. An example might be where an employer only offers training to its full-time workers. And, as many part-time workers are likely to be women, then they would have a reason for pursuing a discrimination case.
Harassment of any kind is also a serious form of discrimination.
What Action Can You Take?
In its early stages, perceived discrimination can often be resolved informally between both the perpetrator and the injured party. However, if this doesn't work, there is further action you can take but it is important to follow the correct procedures which may differ between employers but which all must follow the rules of law.
Written statement -You should write a formal letter to your employer setting out your grievance and tell them that you are giving them a set time by which to respond which has to be a minimum of 28 days. The letter must be dated and you should keep a copy along with a note of the date on which you sent it. The letter should clearly state how you would like your grievance to be resolved and you can find a sample letter on the DTI's website.
Meeting -This will usually result in you being invited to a meeting with your employer to discuss matters in more detail. You're entitled to take someone else into the meeting with you and failure to meet with your employer on the date/time they've stipulated can, in some instances, result in your claim for compensation being reduced should you go on to successfully take your case to a tribunal and win.
Employment tribunal - Ultimately, if the matter hasn't been dealt with to your satisfaction as a result of the actions taken above, then you can take your complaint to an employment tribunal. You should always let your employer know in writing that you intend to do this which gives them one last opportunity to meet with you to see if matters can be resolved internally.
If you opt for the latter, however, you need to ensure that you have followed your employer's grievance procedures first or else this may reduce the amount of compensation a tribunal may offer you. And, although different employers' grievance procedures may be similar, they can differ slightly so it's important that you're aware of them whenever you begin a new job with a different employer.
The Employment Tribunal
Your union representative, local CAB or ACAS, can advise you on how to take your case to an employment tribunal and, if they recommend you go ahead, you need to complete the form ET1 which can be obtained from your local CAB or Jobcentre Plus or from your local Employment Tribunal office or downloaded from their website. However, it's up to the tribunal itself to decide if you have a case to submit.
You might also like...