Employment Criminal Background Checks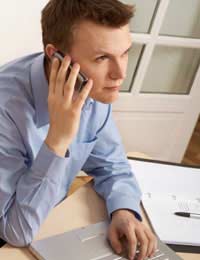 Many people can be put off applying for jobs because the advert states that they will be subject to a criminal background check. It's estimated that around 1 in 5 of the UK population have some kind of criminal record. However many of these so called 'crimes' are likely to have been a minor misdemeanour of some kind and will have little or no bearing when prospective employers are considering you for a job.
The truth is that employers need to be able to run a criminal background check in jobs where the successful applicant may be working directly or indirectly with potentially vulnerable people such as children, the elderly and those with mental and physical health issues in order to protect them.
A criminal background check may also be sought for positions which involve working with sensitive information, for example, the armed forces and other occupations such as doormen, wheel clampers and anyone looking to work within the gaming industry to name but a few. However, there are strict legal limits into what employers can and can't do with the information and also with regard to data protection.
Disclosures
If an employer wishes to run a criminal background check on you, they are required to ask for your permission first. However, the CRB's code of conduct states that they should only ask for a background check if they are about to offer you the position, not at the application stage, where all they should be doing is asking for your permission to run a check if you are successful in being offered the job.
There are 3 basic types of disclosure and these should all be obtained from the Criminal Records Bureau (CRB).The basic disclosure simply contains details about unspent convictions and, even if you have been found guilty of a minor driving offence, for example, this is unlikely to preclude you from being offered a job, unless your role will involve a lot of driving so applicants should not be deterred from applying for a position, just because they may have a minor criminal conviction which is not relevant to the job or have 'spent' convictions.
If, however, you are going to be working directly with vulnerable people or working with sensitive information or the job involves any of the categories above or any other jobs which could be classed as 'exempt', the prospective employer may want to obtain a standard or enhanced disclosure which covers both spent and unspent convictions and any cautions you may have received.
Your legal rights
You have the right to refuse a criminal background check, although that could preclude you from being considered for the job.
You have the right to see your criminal record which can be obtained from NACRO Resettlement Plus.
You can also ask the CRB to send you a copy of their Code of Conduct.
Data Protection Issues and Your Legal Rights
Your prospective employer can only request to get information which is relevant to the job you will be doing.
Any personal information about you which they do obtain and their use and storage of it must comply with the principles as laid out in the Data Protection Act of 1998.
Once you leave your employment, your employer must destroy all of your records securely.
You have the right to see any of the information your employer holds on you and they must produce that information within 40 days of any request you make, although you may have to pay a small charge for this.
If you are given an unconditional offer of employment and it is then subsequently withdrawn, you may be entitled to compensation for breach of contract.
You might also like...