Your CV Presentation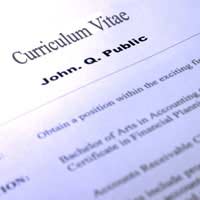 The overall look of your résumé or curriculum vitae (CV) might not be as important as its content, but that doesn't mean it's irrelevant. In fact, an attractive CV is more likely to be noticed first, rightly or wrongly.
If you're not sure about the best way to present your CV to potential employers, clients, or other individuals, check out a few of these ways to make sure your document is appropriately appealing as well as factual.
The Font and Font Size
Unless you're working on a typewriter (which is a rarity nowadays), you'll probably have many choices when it comes to the font you can use on your CV. However, it's important that you resist the temptation to choose a creative style; instead, stick to Times New Roman, Arial, or Courier. Though you might think other fonts "stand out", they will only serve to detract from the message of your CV.
As for font size, choose between 11 and 14 points. Anything smaller is difficult for some people to read; anything larger is unnecessary.
Using Headers in Your CV
If you have divided your CV into sections, put headers in place to help the reader efficiently scan your document. Consequently, you'll need to highlight these headers for maximum efficacy. For this task, choose either bold typeface or an underscore.
Similarly, within your document, you can set apart certain lines from others using italics. For example, one CV section might look as follows:
Employment History
2003 - present. The ABC Agency. Advertising Consultant.
Designed and implemented 37 advertising and marketing campaigns for company clients; established a series of ads for employer; trained ABC personnel on basics of advertising.
Additionally, bullets can be used, but stay aware from anything but basic "dots" or small squares; "emoticons" are inappropriate on a CV.
Photos and Graphics
Unless your CV is meant to be received by a modeling or performing agency, attaching a photograph or inserting a picture of you is not suitable. Though you might feel that doing this gives your CV a more "personal" touch, it only detracts from the professional image you're looking to convey.
Similarly, do not include any graphics in your CV unless you are a graphic designer, in which case you may want to send samples of your artwork in a separate document (attached to your CV, but not part of it.) The one exception to this rule is if you have a personal or company logo; in that case, adding it to your CV might be suitable.
Colours - Keep it Simple
Generally, all fonts should be in black, though some individuals have dabbled in the use of very dark blues for a subtle, eye-catching feel. Again, be very careful about using bold hues - they could turn your CV into an almost-comical manuscript instead of a business document.
As for your CV paper, choose a nice white or off-white colour in a medium-weight sheet. Make sure that whatever paper you choose isn't too thick (heavy weight paper is tough on copiers, and many places will copy your CV) or too thin (think "onion paper", which shreds rather easily; it doesn't copy well, either.) Though many people swear by linen blends and wouldn't consider using anything less expensive, there is only speculative evidence that they will get you the job or the customer.
Borders
It's preferable to keep the lines of your CV "clean" by not going overboard with border insertions. True, borders and boxes sometimes look attractive (such as a very thin one around a centered name with contact information or a muted border that envelopes each page); however, art is definitely in the eye of the beholder. If you're at all in doubt about whether your border is appropriate, leave it out lest it take the limelight away from your CV's subject matter.
Some Final Thoughts about Looks…
Of course, there are always exceptions to the rules outlined above. Admittedly, a few individuals have gotten their CVs noticed by adding wacky items, such as newsletter-style formatting and photos of their kids and pets. However, it's generally best to play it safe, especially if you really want the job or the client.
By delivering a clean, crisp, unfolded CV (buy a large envelope) to your recipient, you'll be upping the chances of hearing your phone ring or getting an email asking you to come in for an interview or meeting.
You might also like...
This blog is totally interesting also extraordinary blog beautiful points.
http://professionalr
- 5-Dec-12 @ 5:30 AM