Completing Application Forms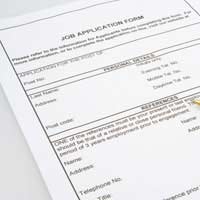 As a job seeker, you've no doubt come across application forms. Theoretically, they provide a consistency and continuity for both the prospective employee and the business looking to hire.
However, in reality, they can greatly hurt your chances of being asked for an interview unless you are savvy about making sure that your application form doesn't wind up in the rubbish bin. Here, we explore a few ways to make sure that an application form doesn't bar you from getting a foot in the door.
Print Your Words Clearly
If you're filling out a paper-and-pen application form, write as legibly as you possibly can. Should your penmanship be less-than-adequate, ask someone else to fill in the blanks for you (unless the application specifically states that the job seeker must be the one who fills out the application.)
Similarly, even if you have gorgeous cursive writing, make sure you always print on your application. Most applications explicitly suggest this, anyway; however, some people still overlook the simple fact that curvy penmanship can be extremely tough to scan.
Use Your CV as a Guide
As someone hunting for a new position, you likely already have a current résumé or curriculum vitae (CV). Use that document as a handy reminder when filling in an application form. For instance, if your application asks you to highlight your top three personal achievements that make you "perfect" for the job, you won't have to scramble around to come up with them. Instead, you can peruse your CV and find them at your fingertips.
Additionally, you may be able to attach a copy of your CV to your application form instead of writing in repetitive details such as date of last employment, educational background, et cetera. Check with the company for whom you're applying; some will allow you to clip your CV to the application so you don't have to waste time rewriting what is in your CV anyway.
Answering Personal Questions
Sometimes, applications ask for information, such as personal data or salary history; consequently, you may not be comfortable handing out those facts. (And as far as the salary is concerned, you may not want to give future employers a "leg up" on salary negotiations which they would certainly have if they knew how much you had been making.)
Unless your application clearly states that you must fill in a certain item, you can feel free to use your discretion. You may even want to write "call for details", "negotiable", "confidential", or some other word or phrase so you're not leaving a blank spot but are maintaining your discretion.
Write a First Draft Before You Fill in the Form
If you're asked on your application to tell a little about why you feel you're qualified for the position, don't make the mistake of writing down the first thing that comes to your head. Instead, on a separate sheet of paper (or on your computer screen), compose your short essay.
Pay attention to your grammar and which words you use, focusing on active verbs and measurable accomplishments. You'll likely only have a limited amount of space in which to write your answer, so it should be as relevant as possible. Ask a trusted friend or family member to look it over if you have the time; you'll be glad you did.
Proof-read Your Application
And finally, before you hand in any application form (even an extremely simple one-page document), look it over. Many people make the mistake of not examining it before sending it to a recipient, only to remember later that they forgot to sign the paper or neglected to attach documents that had been requested.
By being diligent, you'll be able to hand in a professional application form that will be easy to read and might just get you that prized interview.
You might also like...