Writing A Chronological CV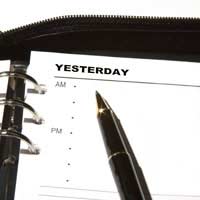 The reverse chronological resume or curriculum vitae (CV) is probably one of the most commonly written and seen. The basic focus of this document becomes the timeframes in which events occurred. The latest achievements are listed initially, thereby directing the reader to consider your accomplishments from last to first.
Here, we'll look at some of the pros and cons of the chronological CV:
Pro:
It makes scanning your document a breeze.
Because your most recent job positions, volunteer activities, and educational experiences are listed at the top of each section of your CV, the person who receives it can quickly know what your career path has been from a length of service perspective.
This is helpful, because many interviewers or search committees have very little time to spend delving into individuals CVs; hence, the faster they can skim through them, the better. And one of the critical elements they typically look for is your current status.
Con:
It may not position you well for the job to which you're applying.
Unfortunately, your most recent achievements or positions aren't always going to help you get the job.
For instance, let's say you are an accountant who decided two years ago to switch gears and become a novelist. After 24 months of near-poverty and self-employment, you decided to hang up your pen and return to the daily grind of life with numbers. However, your CV will list your last employment title as "freelancer" or "self employed writer". If someone is reviewing your CV very quickly, he or she might assume you are inappropriate for the job and simply discard your CV before delving into it further to uncover how qualified you really are.
Pro:
The chronological strategy is often used; thus, your CV won't "stand out" from the rest of the pack, which can be a good thing.
As stated before, the chronological CV is very frequently seen (and, in some cases, may be expected.) This means that you'll be employing a tried and true method for getting your information to your intended audience. As the saying goes, why reinvent the wheel?
Con:
This strategy is often used; thus, your CV won't "stand out", which can also be a bad thing!
On the other hand, some authorities on the subjects of CVs and job hunting suggest that looking like the rest of the pack can be detrimental to the job seeker. If your CV blends in with every other CV on your recipients' desktop, its uniqueness or relevancy might be lost or overlooked. This can be especially true if you're applying for a job which is outside of your education or career track.
Pro:
It takes less time to write.
A chronological CV is extremely quick to put together, because it flows easily. After all, you basically just pop in the numbers, job titles, employers, and other pertinent data. It's rather simple and efficient, making it useful for those who don't want to spend hours mulling over how to organise their CVs.
Con:
It's not as targeted as other kinds of CVs.
Conversely, the chronological CV might be quick to write, but it doesn't necessary "mirror" the job posting. To do that, you'll need to choose another type of CV, such as a skills-based or targeted CV.
Pro:
It's a great way to get started!
Let's face it; this doesn't have to be the last CV you'll ever write. In fact, chances are that you could wind up with many different CVs over the course of your career. If the chronological style gets you noticed at least once, it has been worth your time investment.
You might also like...