Tailor Your CV to the Job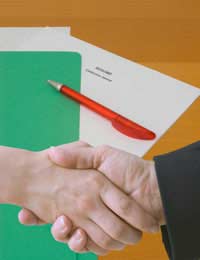 Want to make your résumé or curriculum vitae (CV) is as pertinent as possible? Try directing it to your recipients' needs. This entails answering some questions (outlined below) and subsequently tailoring your CV to fit your answers.
The result? A seamlessly targeted CV that will give you an edge over your competitors.
What is the Overarching Goal of Your CV?
First, why are you writing your CV to begin with? Are you seeking a job? Or are you trying to attract more clients or press by sending out a CV and bio of you and/or your company?
Your reasons for putting together your CV should drive its general content. For instance, if you are aiming it at a prospective employer, make certain it contains relevant career information. Consequently, if you're trying for an engineering position, only include data that relates to your skills and credentials as an engineer. Ultimately, that could result in leaving out your volunteer activities on behalf of cancer victims but keeping your annual "career day" visits to the local postsecondary school to discuss the value of a degree in the sciences.
Who is Your Audience?
Envision who will be perusing your CV. Is it a personnel manager or a potential customer? Try to get into the general mindset of the individual who will be scanning your CV.
For example, if you're sending your CV to future clientele as a way of highlighting your expertise and encouraging them to hire you, think about what will impress them most. Similarly, if you're responding to a business's classified advertisement, make sure you waste none of your reader's valuable time.
People usually do not spend many minutes poring over CVs, at least in the initial stages of the hiring process. Hence, your CV needs to be as succinct and applicable as feasible. If you believe your audience will be most interested in your educational background, put it first; on the other hand, if you think that your awards and honors will wow your reader more than your degree will, head up your CV with those elements.
Is There Any Language Available That You Can "Mirror"?
Often, job postings give terrific clues as to what you should include in your CV. Thus, by "mirroring" their phrasings, you can target your CV to their advertised requirements and desires.
Consider following the mock ad:
Fortune 500 company looking for mid-level supervisors to oversee international call centre. Must be self-directed, reliable, and willing to travel on a regular basis. Experience working in a telemarketing capacity preferred. Knowledge of Spanish a plus.
In this call for CVs, there are plenty of hints as to what you can include in your document to successfully target it. Since this company is asking for mid-level supervisors, you'll need to emphasise how many years you've been a manager. This can be quickly accomplished in your "Qualifications" section. Similarly, if you are fluent in a second language (even if it's not Spanish), you may want to highlight that in an "Education History" or "Special Skills" CV segment.
Basically, you will be echoing the requests as outlined in the job posting; you can even use the same wording for an added effect (such as "mid-level", "international", and "self-directed".)
By creating a targeted CV, you'll be upping your chances of receiving a phone call or email from your recipient. Does it take a little more time than arranging an all-purpose CV? Absolutely. (After a number of months, you may even wind up with a series of unique CVs.) However, putting some forethought into your CV can pay off in a big way, making sure your investment of a few extra hours is well worth it.
You might also like...