Make a Lasting Impression at an Interview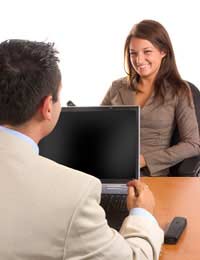 Congratulations! You snagged a lucrative job interview. Now, it's time to wow everyone you meet. Below, we'll look at several techniques you can use to ensure that the impression you leave is powerful and positive.
Dress for Success
It's been said before, but it's worth repeating - dress to impress your interviewer(s)! Wear a conservative suit in a neutral color (blue, gray, or tan are best) and make sure your shoes are polished. Ladies - keep your make-up simple and pleasant. Guys - please shave! If you have any noticeable piercings, remove them; they could cost you the position. By paying a little attention to these details, you'll be starting off on the right foot because regardless of how right or wrong it is, appearance does matter.
Bring Plenty of Information with You
Don't walk into an interview empty-handed. Instead, carry a briefcase or folder filled with materials such as extra copies of your CV or samples of your work. If you're a graphic artist or performer, bring along a portfolio with photos or clips. Candidates can even come to interviews with samples of ways they've streamlined business practices, such as spreadsheets they've created or newsletters they've designed. Having these items on hand will make it easier for you to show how competent and prepared you are.
Be Emotionally Ready for the Experience
You need to be mentally geared up for your interview so you can walk in with a fresh, optimistic attitude. The night before, eschew any drinking and eat a light meal. Exercise a bit, but don't run a marathon. And make sure that you get more than an hour or two of sleep. If you walk into your face-to-face, frazzled and uncomfortable, it'll show right away and may hurt your chances of being seriously considered for the job.
Make the Interviewers Feel Better
Sometimes, the most nervous person in the room won't be you; interestingly enough, many interviewers are terrified to conduct these kinds of meetings. They are fearful that they will make a mistake or ask the wrong questions. Therefore, you can take a helpful approach and come prepared to ask questions of the interviewer so the conversation will flow more easily. This can often help your interviewer relax, because the onus won't be squarely planted at their feet. By taking off some of their pressure, you'll show you're a team player and they'll remember you with appreciation.
Be Succinct in Your Answers
When asked a question, make sure your reply is short and to the point. Often, we become so tongue-tied that we wind up reiterating the same thoughts over and over again. Thus, what should be a simple answer becomes drawn out and more complex than needed. You want the people you meet to think of you as a person who can get from A to Z in the shortest amount of time, not someone who meanders through his or her answers and can never seem to make a point.
Treat Everyone with Dignity
No matter whom you meet during your onsite visit to a prospective employer, it's important to treat him or her with more than a modicum of respect. From the janitorial staff to the receptionist to the CEO, you should present a pleasant attitude and a welcoming smile. By being affable, you'll come across as someone who will be a joy to work with.
Arrive Early for Your Interview
If your meeting is scheduled for 8:00 a.m., be there at 7:45 a.m. If you keep your interviewers waiting, you'll be lowering your chances of receiving a job offer before you ever say, "Hello". You can enlist friends and loved ones or roommates to assist you in staying on task the day of your big interview; that way, you won't have to rush to make it to your appointment.By taking a few precautionary measures and being attentive, you can make a professional (and maybe profitable) impression on those persons who just might be your colleagues next month.
You might also like...