Mock Job Interview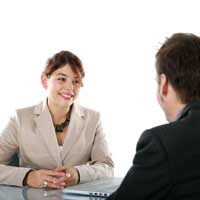 Many job applicants absolutely dread interviews. Truly, they can be a double-edged sword: On one hand, they are essential to gainful employment; on the other hand, they can be extremely stressful events.
In order to be certain your next job interview flows well (and lands you the position!), why not try setting up some "mock" job interviews? These are meetings that you arrange with a trusted friend or loved one so that you can be better prepared for your face-to-face.
Mock interviews are a way for you to feel easier about your impending appointment for a number of different reasons, including those listed below:
Mock Interviews Can Help Expose and Strengthen Your Weaker Areas
During a mock interview, the person sitting opposite you is likely to ask at least one question that leaves you totally stumped. Taken aback, you may stutter or even fall silent, trying to think of an answer.
Though this sounds like an awkward scenario, it's actually a terrific learning opportunity; after all, you're in a safe setting. That means if a weak spot is exposed, you'll have time to figure out how to answer a difficult inquiry before your actual interview takes place.
You'll Get Instant Feedback on Your "performance"
If your friend or loved one is truly honest (and insist upon it or the mock interview will be less effective), you'll get plenty of information on how you came across during the interview dialogue. For example, you may find out that you tended shift in your seat while discussing certain topics, or you may discover that you were too quiet, thus appearing timid or self-conscious. Though this type of feedback can be hard to hear, it's better to receive it from someone who cares about you than have it observed by a prospective employer who is hardly impressed.
Your Friend May be Able to Offer Some Pointers
The person playing the interviewer may actually be able to give you some pointers you never imagined because he or she will bring to the table his or her own unique experiences.
For instance, your friend might tip you off to a bad habit (like cracking your knuckles) or to a verbal "tic", such as saying "um" between every sentence that you never even realized you had. And the more you know about yourself, the more opportunity you'll have to keep those behaviours in check on the day of your actual interview. Though they might be difficult to eliminate completely, it's still better to know about them than to remain in the dark.
You Can Sit in the Interviewer's Seat
One type of mock interview that you might not have tried in the past but which is incredibly effective is for someone to play you... and allow you to play the role of the interviewer. Thus, you'll be able to see what the experience is like from the advantage point of the person who will be asking you questions. It's a wonderful role-reversal experience, and will completely change your perspective on your upcoming meeting.
It'll also be slightly amusing to hear how your friend or loved one portrays you and your strengths, experiences, and achievements. (Give him or her your CV in advance so he or she can "study" a little ahead of time.)
By engaging in mock interviews, you'll find that most of your jitters begin to disappear, leading to a much more fulfilling (and hopefully lucrative) job seeking experience.
You might also like...