A Whole-Day Interview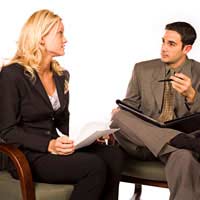 Though whole day interviews are definitely the exception and not the rule in the world of job hunting, they do sometimes occur. And when you've been asked to put aside approximately eight hours to "sell" yourself, you need to do everything within your power to make an outstanding impression.
Prepare Physically
Because this period of time isn't going to be like a typical workday, you need to make sure you're physically prepared for the stressors of talking for long periods, possibly walking around the building, making a number of presentations, and just plain being "on" for an entire day.
The day before your whole day interview, you'll need to eat well. Avoid heavy or greasy foods and try to snack on items that are high in protein and fibre, moderate in carbohydrates, and low in fat and sugar. That way, your system won't be overloaded.
You should also avoid alcohol the 24 hours before you show up for your interview; the last thing you need is to walk into this critical meeting with a hangover or suffering from a bad night's sleep. (And you can always enjoy a beverage after your whole day interview is finished!)
Prepare Mentally
Obviously, you'll need to make sure you've taken some time to consider all the different questions you're likely to hear during your whole day interview. Keep a running list of everything under the sun that could potentially be asked of you, and write down the answers. That way, your confidence level will be at its highest.
Remind yourself that you'll be meeting a number of personality types at the whole day interview; hence, you may encounter one or two individuals with whom you might feel little (or no) connection. Accept that as a possibility, but don't allow it to concern you.
Gather Your Interview Materials the Evening Before
So you're not frantically looking for items the morning of your whole day interview, plan on putting everything you'll need in one location the night before. This includes extra copies of your résumé or CV, a notepad and writing utensil(s), your business cards, questions to ask the interviewer(s), a portfolio of your best work-related samples (if applicable), and any other materials you may have been asked to bring with you.
This way, you'll be less likely to forget something pertinent in your dash to get out the door in time for your appointment.
Pace Yourself
Once at the whole day interview, don't come on too strong at the beginning. Ease into the day with grace and keep some fuel "in reserve". Too many interviewees burn out by lunchtime; consequently, by the middle of the afternoon, they are too exhausted to put on a good show.
If you feel like you're starting to wind down, you can always ask for a quick break. Go to the bathroom and do some deep-breathing exercises. Jog down the stairs. Or make a quick phone call to someone who will be an instant "pick me up." That way, you can return to your series of meetings with a fresh attitude.
Be a Problem-Solver
During your day, you may have the fortuitous chance to jump in and "roll up your sleeves", tackling something with persons who could become your colleagues. Take advantage of these opportunities to show your interviewers that you are a possibility thinker and someone who isn't afraid to get his or her hands dirty.
By shouldering some of the burden, you'll be sure to make a favorable impression on the people with whom you're meeting. However, do be humble about the experience. Genuinely altruistic workers don't need to pay themselves on the back. Instead, shrug off any accolades; that will make a bigger impression than boasting about your "team player" mentality.
After your whole day interview is behind you, breathe a sigh of relief. You made it through! Pat yourself on the back, enjoy an indulgent meal, and rest easy knowing that you did your best.
You might also like...